1 December 2015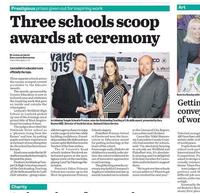 High Praise Indeed
Congratulations go to Cate Gardner, Beth Harris, Grant Carruthers and Matthew Baines who were all honoured at the prestigious Educate Awards held in Liverpool's Anglican Cathedral at the end of November.
Cate Gardner was shortlisted for Outstanding Arts in a Secondary School while former pupil Andrew Woolcock held the 500 guests transfixed by his performance of 'Land' on the 5 octive marimba. Twitter was alive with rave reviews and accolades. Archbishop Temple music is now firmly on the map.
Beth Harris was shortlisted and was runner up in the Outstanding Teacher of the Year category and received high praise for her visionary and inspiring work. On top of this award is the one she receives almost every year, Most Inspirational Teacher as voted for by Year 11.
Grant Carruthers and Matthew Baines went on to win their category of Outstanding Teaching of Life Skills in a Secondary School. Their wonderful work in setting up and running the schools' Lads' Club has won them two awards this year. Mr Carruthers and Mr Baines were also featured in the LEP last week.
We are so proud of these and all our amazing teachers.