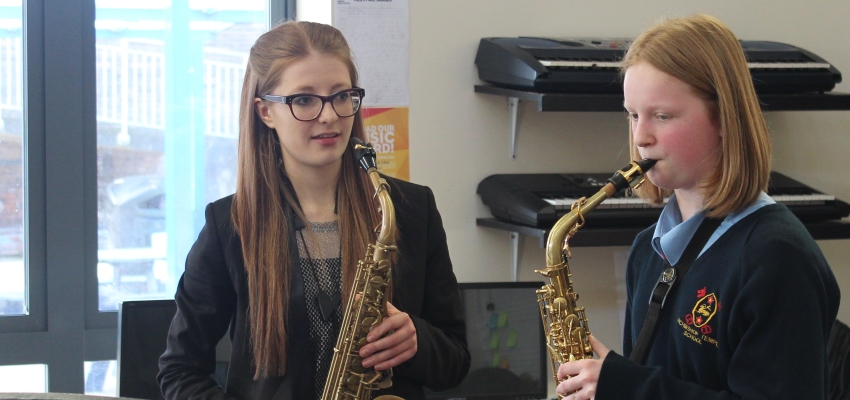 On Thursday 9th March saxophonist Jess Gillam came into school. Jess won the woodwind category and got through to the final of Young Musician of the Year 2016 along with Archbishop Temple's own Andrew Woolcock. She came in to give a saxophone masterclass but it wasn't just for those that played the saxophone. An array of young musicians ranging from year 7 to year 10 had all come to see what musical knowledge she had to offer.
Everyone arrived at the music block for second period. Once those that had turned up had sat down she was introduced and she was a lovely girl. At just 18 she has already achieved so much. She gives masterclasses just like the one given at school all over the country, plays in concerts up and down the country and has even appeared on programmes like BBC Breakfast.
The first person to play for her was Daniel. He played a wonderful jazz solo and was given some really helpful tips such as have a confident sound even when you are playing quietly. The next person to play was Charlotte. She played an entirely different style of piece to Daniel. She played a very classical and beautiful piece that made people think of nature. She was given tips like use vibrato to add colour to lines of less interesting music and music is a type of communication so know what you are communicating. After break it was Susanna Raj's turn to play. Susanna played a jazzy piece that impressed everyone. Whilst she was giving Susanna advice, Jess did this unusual but interesting exercise with her where Jess did the fingering of the notes whilst Susanna blew into the instrument and did the articulation. This exercise was to emphasise that articulation is important in a piece.
After everyone had played Jess had a question and answer session where questions were asked and very helpful and interesting answers were given. A few of the questions asked included: "How long have you been playing?" and "Do you play any other types of saxophone or any other instruments?"
Once the question and answer session had finished, Jess gave us a small recital and this really showed us why she won the woodwind category of Young Musician of the Year. She commanded the stage and everyone was mesmerised by every note. The last piece she played for us was called Pequeña Czarda and this piece was one that she played for Young Musician. No one in the room knew how she moved her fingers so fast.
Meeting and hearing and taking advice from Jess Gillam, someone so young but who has achieved so much, was a truly inspiring experience that I am sure no one will forget. She is an amazing person with so much musical knowledge to offer and inspires young people every time she does a workshop or performs in a concert. Everyone who attended the workshop received some useful tips and tricks that will help them with their instrument playing, no matter what instrument they play and it was an experience that no one will forget.
Rachel
Year 10