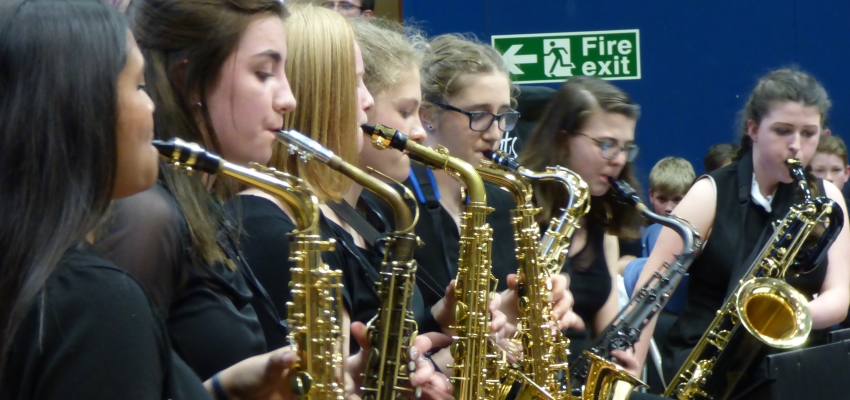 The main school hall was filled with the sound of music earlier this week as Mrs Gardner's highly successful Music Department staged their Easter Concerts over two very different nights.
The Junior Concert Band opened the first half of Monday's concert, on 27th March 2017, with a Processional Overture followed by three more pieces. The Junior Concert Band are all very excited about performing in the final of The National Concert Band Festival in Warwick on 8th April 2017. Emily Lees played a beautiful Flute Sonata by Poulenc and Charlotte Turnbull played a 2nd Movement Sonata composed by Saint Saens. The Staff Choir, took to the stage to perform Take That's 'Rule the World'. Junior Choir and Chamber Choir spellbound the audience with their performances of Firework and Tequilla Samba. Following the Easter Raffle Susanna Raj played Duncan Lamont's upbeat 'More Brothers'. The evening wound up with four pieces played by The Senior Concert Band including Toto's 'Africa' and 'You Can't Stop the Beat' from the hit musical Hairspray.
On Tuesday 28th March 2017 pupils from Year 5 at St Andrew's CE Primary School came to Archbishop Temple to take part in music and art workshops. During the music sessions Instrumental Teachers Andrew Woolcock and Rabin Joseph taught the children percussion, which they later performed in a rousing session during the Easter Concert. In the art sessions Ms. Markham taught the children how to decorate exotic animal masks with African patterns.
The Junior Percussion Group, led by Rabin Joseph, opened the Easter Concert on Tuesday. Junior Jazz kept the tempo up performing three pieces including 'Funky Monkey' and 'Mas Que Nada'. Next up the Year 5 children from St Andrew's took to the stage with an impressive percussion arrangement practised earlier that day. Rabin Joseph conducted the dapperly dressed ATS 8. Andrew Woolcock conducted the Senior Percussion Ensemble and the first half of the lively concert was wound up with superb performances by the Senior Jazz Band. After the interval and Easter Raffle the audience were dazzled by Andrew Woolcock and Rabin Joseph's impressive joint drum and percussion performance. The Finale was a lovely rendition of 'Circle of Life' performed by members of the Archbishop Temple and St Andrew's choirs and led by Choral Director Joe Martin.
Thank-you to the PTA for organsing the refreshments during the intervals. Special thanks goes to the Year 5 children at St Andrew's CE Primary School who were a delight to teach and behaved impeccably throughout the day and evening.
We hope that all of you who attended enjoyed both of the evenings as much as we did and wish you a very happy and restful Easter break.