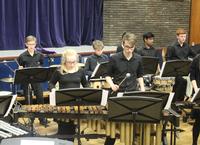 You may remember when the Senior Percussion Group recorded their entries to be submitted into the world's largest youth music festival, the Music for Youth Festival, at the end of February 2017. We are delighted to announce that they have been offered a place to play at the celebrated festival. The group will perform at the CBSO Centre, home of the City of Birmingham Symphony Orchestra, on the 5th July 2017.
Music for Youth is a national music education charity providing free access to performance and audience opportunities for young musicians across the UK. Around 8,000 of the UK's leading young musicians perform at world class venues and city centre locations across Birmingham as part of the The Music for Youth Festival. The public are invited to attend and hear the very best brass, classical, folk, choral and contemporary renditions from the UK's brightest young musicians.
This is the third time that Archbishop Temple School's Music Department have made it through to the festival. In 2016 the Chamber Choir performed at Birmingham Town Hall. In 2015 the school's Senior Concert Band was one of twelve school concert bands that reached the final at Symphony Hall, Birmingham.
The Music for Youth National Festival will run from 4th to 8th July 2017 in venues across Birmingham.