30 April 2019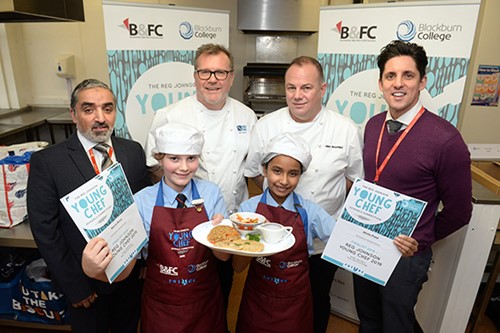 Two young chefs from Archbishop Temple School will be competing in the final of the Reg Johnson Young Chef Schools Competition at Blackburn College on Wednesday 1st May 2019.
Pupils Naomi and Alisha, both in year 8, were put through their paces in the regional heats at Blackburn College last term. The pupils, alongside Nathanael and Maya, in year 7, prepared a main course with Goosnargh duck and presented to the judge, Michelin Star chef, Nigel Haworth from Northcote Manor. All pupils did extremely well, with Naomi and Alisha making it to the finals. The girls will be competing against seven other teams in the final.
Judged by celebrity chefs Nigel Haworth and Paul Heathcote MBE; the competition was created to honour the memory of the late Reg Johnson – a local poultry farmer whose top-quality produce put the village of Goosnargh on the map.
Nigel Haworth said, "We have been absolutely delighted with the standard of dishes produced. Each pupil had really thought about the design, presentation and timing of their chosen dishes and it was a pleasure to see such passion for cooking in pupils so young.
"This is the perfect age to stimulate an interest in food, educating pupils of the fantastic career path and opportunities available within the Catering and Hospitality industry."
Paul Heathcote MBE said, "Reg was a great friend of ours and he would have been so proud of this competition and the enthusiasm demonstrated by the pupils. He was very passionate about encouraging young chefs to enter the Catering and Hospitality industry."
Pupils will be competing for an inspiring prize package including dinner for 6 at Michelin-star restaurant Northcote and a cooking demonstration from Executive Chef Lisa Goodwin-Allen. We wish them luck!